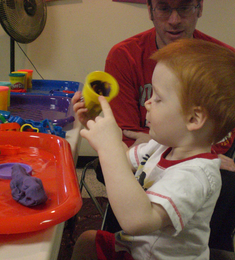 CTF Prevention grantee, The Community Partnership, Rolla, provides assistance to families within a five county area, Crawford, Dent, Maries, Phelps, and Pulaski. One of the programs that the organization has implemented is the Capable Kids and Families (CKF) Program after it became obvious that there was a need across the region by families who were caring for children with developmental disabilities or delays.  Amy Beechner-McCarthy, Community Partnership Executive Director and Jean Darnell, Capable Kids and Families Program Director were the thought leaders behind the program. It supports the families by providing home visitation, networking opportunities and assistance with developmentally appropriate therapy equipment.  Among the project's goals is decreasing family isolation and increasing positive family interactions to help reduce the risk of child abuse and neglect. Educational opportunities focus on issues that are often triggers for abusive behavior. Opportunities are provided for positive parent/child interaction and occur in conjunction with the development and periodic review of a goals-oriented family strengths plan by each participant family.
Grant funding from Children's Trust Fund (CTF) helps provide equipment for families that would not otherwise have access to it, for financial or other reasons.
AUDIO: Jean Darnell talks about the contributions made possible by CTF funding
AUDIO: Amy Beechner-McCarthy shares an example of a family helped by the program
Darnell recalls how a Capable Kids' sitting device helped a four-year-old boy sit up for the very first time.
AUDIO: The difference that a piece of equipment can make
Supporters of the Capable Kids' and Families program hope it will continue to expand beyond the current counties served.
For additional information about Capable Kids, contact Amy or Jean at
573-368-2849.