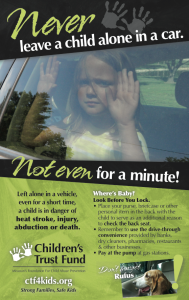 Many parents face the decision about whether or not to leave the kids in the car while they run a quick errand, in the name of convenience.  But this seemingly innocent act can turn deadly in just seconds.  It's important that all parents and caregivers realize that it is never safe to leave a child in or around vehicles, Not Even For A Minute!  In addition to temperatures that can skyrocket inside a vehicle, leaving children susceptible to heat stroke, there are other dangers.  They include backovers, frontovers, power window accidents, trunk entrapment, vehicles set into motion, car jacking and abduction. It's important for parents and caregivers to remember that most of these things can happen very quickly.
In addition to making sure the kids go with you when you leave the vehicle, follow these tips to ensure they don't use the vehicle as a play place when you're at home or elsewhere:
Always put your keys in a safe and secure place.
Keep vehicles locked at all times, even at home, and remind your friends and neighbors to do the same.  Unlocked cars pose a risk to children who are naturally curious and often fearless.
Teach your children the dangers of a car and let them know it is not a toy or playground.
Establish a routine of checking the back seat every time you exit the car to ensure no one is left behind. Don't overlook sleeping infants.
Place your child's diaper bag or a small toy in the front seat to serve as a constant, visible reminder of you child's presence in the car.
Place your purse, briefcse or other personal item in the back wth the child to give you an additional reason to check the back seat.
Ask your childcare provider to call you if your child does not show up for childcare as scheduled.
Try to plan ahead when you have errands. Run errands when your spouse, trusted neighbor or friend can watch your child.
Remember to use drive-through convenience provided by banks, dry cleaners, phamacies, restaurants and other businesses.
Use your debit or credit card at the gas pump.
When a child is missing, check vehicles and trunks immediately.
If you see an unnattended child in a car, call 911 immediately.
To help spread this critical safety message, CTF offers several 'Not Even For A Minute' public education materials. These are available at no cost in hard copy and download (pdf) and include a poster and rack card (pdf) with helpful tips and reminders.
Related Articles:

Walmart places reminder signs in windows