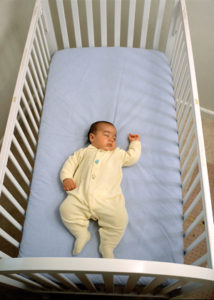 SIDS Resources, Inc. located in St. Louis, is a private, not-for-profit network that connects people to programs, services and information relating to Sudden Infant Death Syndrome (SIDS) in Missouri.  As a long time partner of the Children's Trust Fund (CTF), SIDS Resources serves as a distribution center for safe cribs in the St. Louis and Kansas City regions.
Utilizing funds from the sale of the CTF prevent child abuse license plate, SIDS Resources provides a Pack n' Play safe crib and crib sheets benefiting low income or at-risk families with infants.  The program identifies eligible families through referrals from many surrounding community partners including Catholic Charities, St. Louis County Health Department, Family Care Health Centers, Grace Hill Neighborhood Health Center and Cardinal Glennon Children's Medical Center.  The program focuses on removing the economic barrier that families face in terms of providing a safe sleeping environment for their babies. In addition to presenting parents in need with a safe crib, community volunteers and staff members work to educate and inform families on safe sleep practices and reducing the risk of SIDS for their infants.
We spoke with Lori Behrens, Executive Director, SIDS Resources, Inc. about the importance of the partnership with CTF.
AUDIO: Behrens on CTF as a reliable funding source
She says community partners assist the program in a number of ways from letting them know who may need assistance, to lending a hand when their own resources get low.
AUDIO: Behrens on additional support

Behrens says the Safe Sleep program is the best way to inform and educate the public on safe sleep practices for children. She says the in-person contact made through the pack-n-play program offers an expanded opportunity to educate parents and caregivers.
AUDIO: Safe Sleep Pack-n-Play Distribution Program
CTF license plate marketing partner organizations throughout Missouri help promote and sell the plates to increase prevention awareness and raise funds that are returned directly back into the community to provide prevention programs that help children and families.
For more information go to SIDS Resources, Inc. or call 800-421-3511.