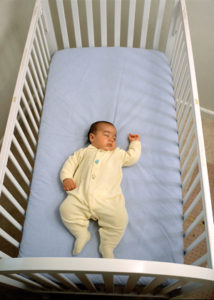 September is National Baby Safety Month in which the Missouri Safe Sleep Coalition is focusing on Safe to Sleep practices for infants.  The Coalition has been convening over the last several months with the goal of increasing efforts of safe sleep awareness and education across the state. Coalition member agencies include the Children's Trust Fund, Children's Mercy Hospital – Kansas City, MO Department of Health & Senior Services, MO Department of Social Services, State Technical Assistance Team, Mother & Child Health Coalition, and SIDS Resources.  During September, the Coalition is spreading the safe sleep awareness message via a unified social media campaign, in addition to CTF's Safe to Sleep Media/Social Media Campaign that includes radio announcements; web promotion; metro transit advertising in St. Louis, Kansas City and Springfield; and refreshed Safe to Sleep materials available free to Missourians.
"Infant deaths due to suffocation and strangulation related to unsafe sleep environments are preventable.   While this is a message that resonates throughout the year, Baby Safety Month gives us an added opportunity to increase the awareness as a group," said Paula Cunningham, Children's Trust Fund Public Affairs & Education Coordinator.  "If parents and other caregivers only remember one thing about safe sleep for their babies, it is this…Safe to Sleep is as simple as ABC. Babies should sleep Alone, on their Backs in a Crib,"  said Cunningham.

Know the key Safe to Sleep messages to keep babies safe & reduce the risk of SIDS & other sleep-related causes of death:
Place baby on his/back to sleep alone, for naps & night time, to reduce the risk of SIDS.
Place your baby in a safety-approved crib, bassinet or portable play area with a firm sleep surface & fitted sheet.
Do NOT place baby to sleep on an adult bed or other soft mattress, waterbed, sofa, chair, beanbag, pillow, cushion, other soft surface or in a car seat.
Remove all soft objects, toys, blankets, bumper pads, pillows from the baby sleep area.
Dress baby in a sleeper/sleep sack instead of using a blanket or other covering..
Put baby to sleep alone in a separate sleep such as a crib or bassinet, but in the same room where you sleep.  Bed sharing is dangerous.
For more information about safe sleep for babies go to:
Children's Trust Fund
SIDS Resources
HealthyChildren.Org
National Institute of Child Health & Human Development
Listen to Radio PSA – 5 Steps for Safe Sleep
Listen to Radio PSA – ABC's of Safe Sleep