Children's Trust Fund FY17 Annual Report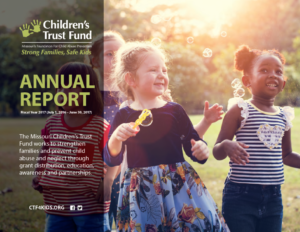 The Children's Trust Fund Fiscal Year 2017 Annual Report highlights CTF's grants, partners, public education campaigns and overall prevention work from July 2016 through June 2017. During that time, CTF awarded over $1.6 million in prevention funding to support over 100 community-based programs providing parent/family education, home visiting, safe sleep education, mentoring, respite care, sexual abuse prevention, fatherhood initiatives, protective factors training, public awareness, parent café training and much more. Since its 1983 inception, CTF has awarded nearly $58 million to strengthening families and prevent child abuse and neglect in Missouri.
---
Get FREE Online Training! Available 24/7!

FRIENDS National Center for Community-Based Child Abuse Prevention (CBCAP) is a valuable partner of the Children's Trust Fund (CTF). As Missouri's lead CBCAP agency, CTF receives training and technical assistance from FRIENDS, and we want to pay forward their Resource of the Month.
The FRIENDS Online Learning Center offers accessible continuing education and professional development. It is designed to provide high quality, subject-specific training at no cost — developing a logic model, evaluation techniques, child abuse prevention, program implementation, parent leadership, protective factors, financial decision making and more.
This online training is a great option for those who are unable to attend in-person trainings or need a refresher on a certain topic. Check it out!
---
Project THRIVE Feature Program
Great Circle, Kirksville – Project THRIVE CBCAP
greatcircle.org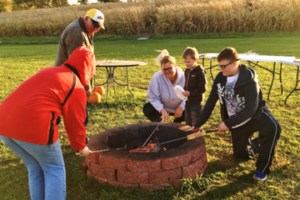 People Helping People is a slogan commonly heard to describe the community of Adair County. Like Adair County, Project THRIVE is a program of People Helping People.
Angela Hunolt, Project THRIVE Coordinator, said, "Ultimately, our goal is to strengthen family resilience. We want to improve their outcomes, reduce their costs, help the families, promote family empowerment, and reduce the risk of child abuse and neglect long-term by sustaining that collaborative effort with those network of providers."
Click here for more information or visit page 3 of our Annual Report.