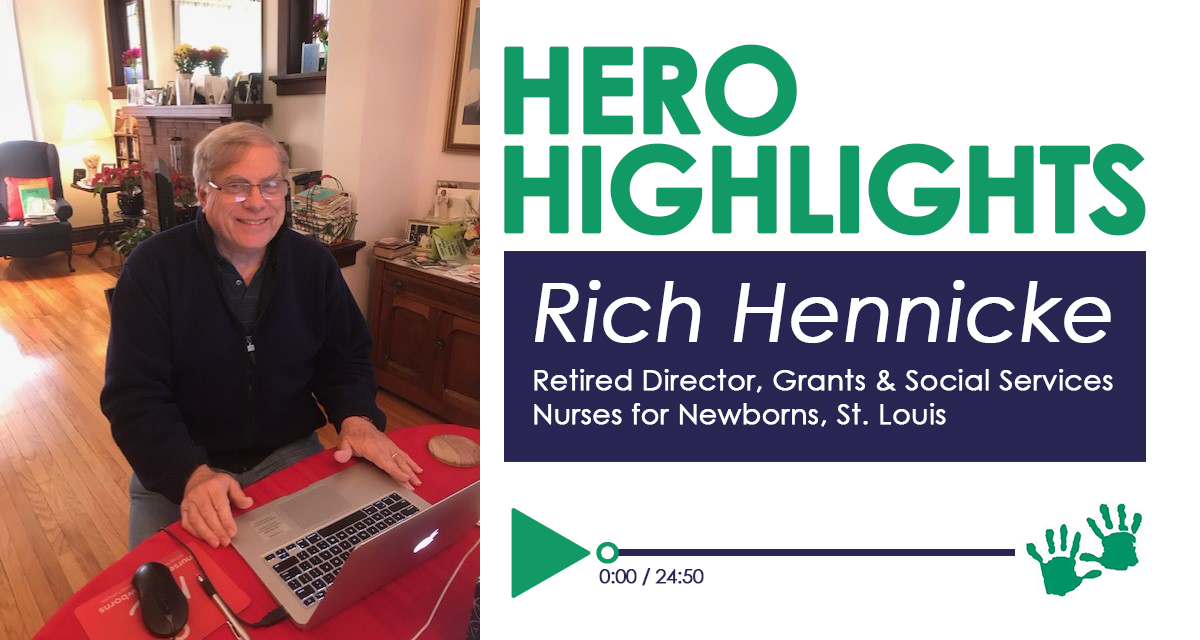 Interview date: November, 2021
Last year, in the first issue of First-Hand Insights, we asked you to nominate people you would consider "Heroes" in the field of child abuse and neglect prevention.
This interview is the first in our series to be released, featuring one of the individuals YOU nominated! We know anyone connected to the field will be encouraged by the conversation between CTF Executive Director, Emily van Schenkhof, and retired Nurses for Newborns Director of Grants & Social Services, Rich Hennicke.
ABOUT RICH: Rich Hennicke and his wife, Mary Pat, who also retired recently from a career in teaching, are enjoying their retirement by spending time with their daughter Mary Virginia (also a social worker who lives in St. Louis); visiting their son Michael and his family in Milwaukee (when Covid precautions permit); and attending theater, music, church, and family events.  Rich is deeply grateful for the opportunity to continue to be inspired by MSW students in the classes he teaches as an Adjunct Professor in the School of Social Work at Saint Louis University, as well as for the opportunity to serve on the boards of organizations that promote positive youth development and social justice.
The explosion of neuroscience… the fact that the science is there, and then that people start accepting the science and start using it… those are powerful things.
EXPAND EACH BOX BELOW TO READ KEY EXCERPTS FROM OUR TRANSCRIPT OF EMILY'S INTERVIEW WITH RICH HENNICKE:
Emily: Why do you think you were called to do this work? How did you end up working for Nurses for Newborns for 18 years?
Rich: A strange set of circumstances… I had just left the wonderful work of the Leadership with the St. Vincent de Paul Society… And honestly, I was praying at the time I got a phone call from Sharon Rohrbach… "We have a position that we're looking for and we think you might be a candidate." So that's kind of how that came into being… When I got to meet Sharon – Emily, the thing that was striking about her – Sharon's soul shines through all the time, and the center of her passion are the babies that she has helped to protect and give life in so many ways. So, it was inspiring to be with her… And this was just unbelievable work, because my work before this, before I worked with St. Vincent de Paul, was with Catholic Family Services. And our work was oftentimes at a later stage in the child's life or in the family's life. And the issues that were there would have been so much easier to deal with and may have never occurred if there had been support earlier in that family's life. 
Emily: When you look back on your on your career, what are some things that you wish you would have known earlier or things that you learned as you got older?
Rich: With Nurses for Newborns, our work was not tied to any sectarian perspective. It truly was the babies… But its inspiration was something deeper in a sense of a faith commitment. And so to recognize that there's something bigger going on here, that, don't get too lost in yourself… There's a whole lot of other folks with you, and sometimes there's just… courses that you don't even know are about this. And so, trust it, and go ahead… go ahead and do. Too long, I felt like I had to carry it on my shoulders. And, of course, that's a very incorrect perspective… And I have to keep learning it, because I get lost in my own little world and ways of looking at things, and so I'm grateful for those who open the windows and say, "hey, there's something more here."
Emily: What were some of the challenges that you faced doing child abuse and neglect prevention work?
Rich: My biggest primary effort, of course, was I was trying to encourage the funding of services… But I also found it difficult when I would find legislative and governmental entities, as well as others in the larger field, who just would either ignore or choose to do things that were obviously not helpful… And in fact, sometimes people would try to suggest I could do something in the public sector that way, and I said I could not. There's no way I could, because it would eat me alive… So that was one of the most painful and difficult parts of our work, because we could raise funds and we could do good things for those babies that we were working with… But if we had policies that would take away Medicaid or just disrupt basic kinds of health requirements, you would lose half of what you just did! 
Emily: What were some of your key philosophies about how you did your work that were important to you?
Rich: Some of the things I've come to appreciate is the sense of appreciation of others and making sure that you're trying your best to see where they are in things… When you have team members who are working together – they're going to see things differently and have different experiences, and to honor and appreciate their experience, to me, is really, really important and valuable…
One of the things with Nurses for Newborns: I was privileged to be there (18) years, which today is a long time in terms of organizations, and I could see, as we started to grow over time… you appreciate the differing moments that are there… it's like with a child, with our own developmental process for humans, you know, there's always those stages… you have to get through it, and it's not easy, and sometimes there's mistakes, just like in every parenting or any other organization process. But to just know that, hey, we're going to stay at it and continue and carry that passion, but do it in a way that's honoring all the players, including those who are saying, "we need to be able to keep paying our bills." You know, that's all part of it.
Emily: Did you have any practical tips for people who are working in the field right now?
Rich: For many years, I overdid it, totally as a clinician, as a social worker, as a grant writer – when I work through the night and get a grant out for the next morning, we get the grant, okay, that's good, but in the long run, that's not a healthy way to operate – so, I would say I think that self-care is so important, and allowing yourself the right to be healthy… the right to take care of yourself… doing those things that you find give you a little bit of energy, that give you the space to be you… Time management can really help that, because if you can parcel your time by saying no to certain things and saying, "this is the priority," and do this in an organized fashion that works for you… that can really help with care of yourself. And then it also ends up that you're doing a better job, too.
Emily: How did you see the field change? How has prevention of child abuse and neglect and our understanding of it changed or evolved? What did you see change from the time you entered to when you retired?
Rich: That has been one of the wonderful joys of my career – to see the growth of the profession and the fields of knowledge that can be useful to the moms, kids, babies, the families and the ultimate benefit of society. I guess one of the things that's changed, it's funny, but it's so true… Some of the earlier assumptions about prevention that we had more from anecdotal and practice information were borne out with more research…
The explosion of neuroscience… that really, radically changes things… The fact that the science is there and then that people start accepting the science and start using it… those are powerful things…
I think the other thing that that struck me is how, and this has been an ebb and tide kind of thing, but when I started with Nurses for Newborns, issues related to the variant disparities of the children that we serve were not as clearly understood and over time, again, science helped to build this case. Now, this challenge for me has been that, as I've seen this grow, this knowledge base grow, I've also seen pushback from people who are devaluing historical and scientific evidence… So, I think that's kind of a piece that's continuing, and that's a worrisome one.
Emily: What do you hope the future looks like for the field of child abuse and neglect prevention?
Rich: I'm hopeful about where we're going with science. I feel like there is a real connectivity with bodies of information that were not available before in terms of pure research, in terms of real biological research, social research, new data sets that are enormous, that you can interconnect fields of information in ways that we just couldn't even think about when I got into the field… We have the chance to start looking at all the range of systems that can interact in ways that could be protective of children, that can be promotive of the best in human experience. So, I'm encouraged by that… The other side of this, though, is that as we grow with this new wonderful technology and science efforts, don't forget we're still human, social creatures, and attending to the heart and the basics of human relationship have to be part of that. If we ignore that, we really ignore a lot of our potential.  
I've been blessed by great, wonderful, kind, gracious relationships. My family at Nurses for Newborns was so wonderful to me in my departure, but they were wonderful to me always… And I saw that many other places – certainly the Children's Trust Fund team… And people within our state offices… who are just dedicated, and they give their souls for the people of our state and for our children. And I think that's what makes things work. And when we listen to that soul that's there, who knows what the possibilities may be?
Statements made in this interview are to be considered the ideas and opinions of the individual interviewee and should not be taken as an official view or statement from his or her affiliated organization(s), past or present. No compensation, express or implied, was provided to CTF, the interviewee or his or her affiliated organization(s) for participating in this interview. This interview was recorded and transcribed by CTF and has been edited for length only and approved by both the interviewer and interviewee for fidelity prior to publication.