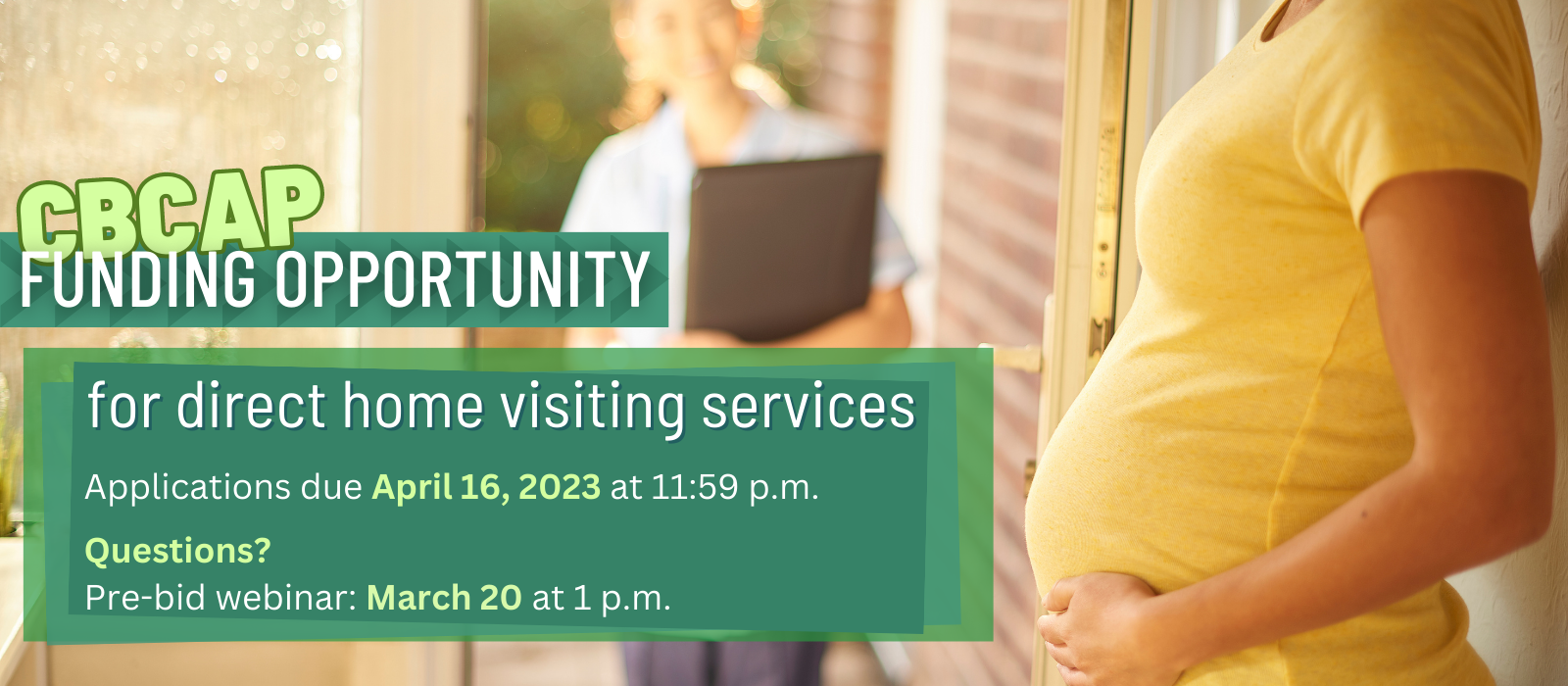 Up to $500k in available new CBCAP funds to support direct home visiting services in Missouri through Fiscal Year 2027.
The Missouri Children's Trust Fund (CTF) is pleased to announce the availability of up to $500,000 in Federal Community
Based Child Abuse Prevention (CBCAP) funds to support direct home visiting services in Missouri. Funding will run from
Fiscal Year 2024 through Fiscal Year 2027. This funding is intended to support direct home visiting services with an emphasis on serving high-poverty areas.
Home visiting is an evidence-based approach to promoting positive outcomes for parents and young children with key outcomes including:
Preventing of child maltreatment
Improving child & maternal health
Improving child development & school readiness
Teaching positive parent/child interactions
Developing family economic self-sufficiency
With this funding and our approach to home visiting, CTF seeks to emphasize serving families in high-poverty areas and reach families in the greatest need of community support. In tandem with the expansion of home visiting services, CTF seeks to compliment the current Collective Impact (CI) structure in Missouri by coordinating services at the state and local levels in order to provide families and stakeholders with easy accessibility to available resources and to ensure families are connected with services best suited to meet their needs.
 To learn more about this funding opportunity, eligibility, requirements & more, visiting our Funding Opportunities page or download and review the Request for Applications, which will be available through April 23, 2023. 
About Children's Trust Fund
Created by the Missouri General Assembly in 1983, CTF is Missouri's foundation for child abuse prevention.  CTF is a non-general revenue state agency that conducts public awareness campaigns about the importance and economic impact of preventing child abuse and neglect.  In addition, CTF distributes grants annually throughout Missouri to local community-based programs that support families and work toward the prevention of child abuse and neglect.  For additional information, please call CTF at 573-751-5147 or visit ctf4kids.org.
Are you receiving CTF's emails? Join below!