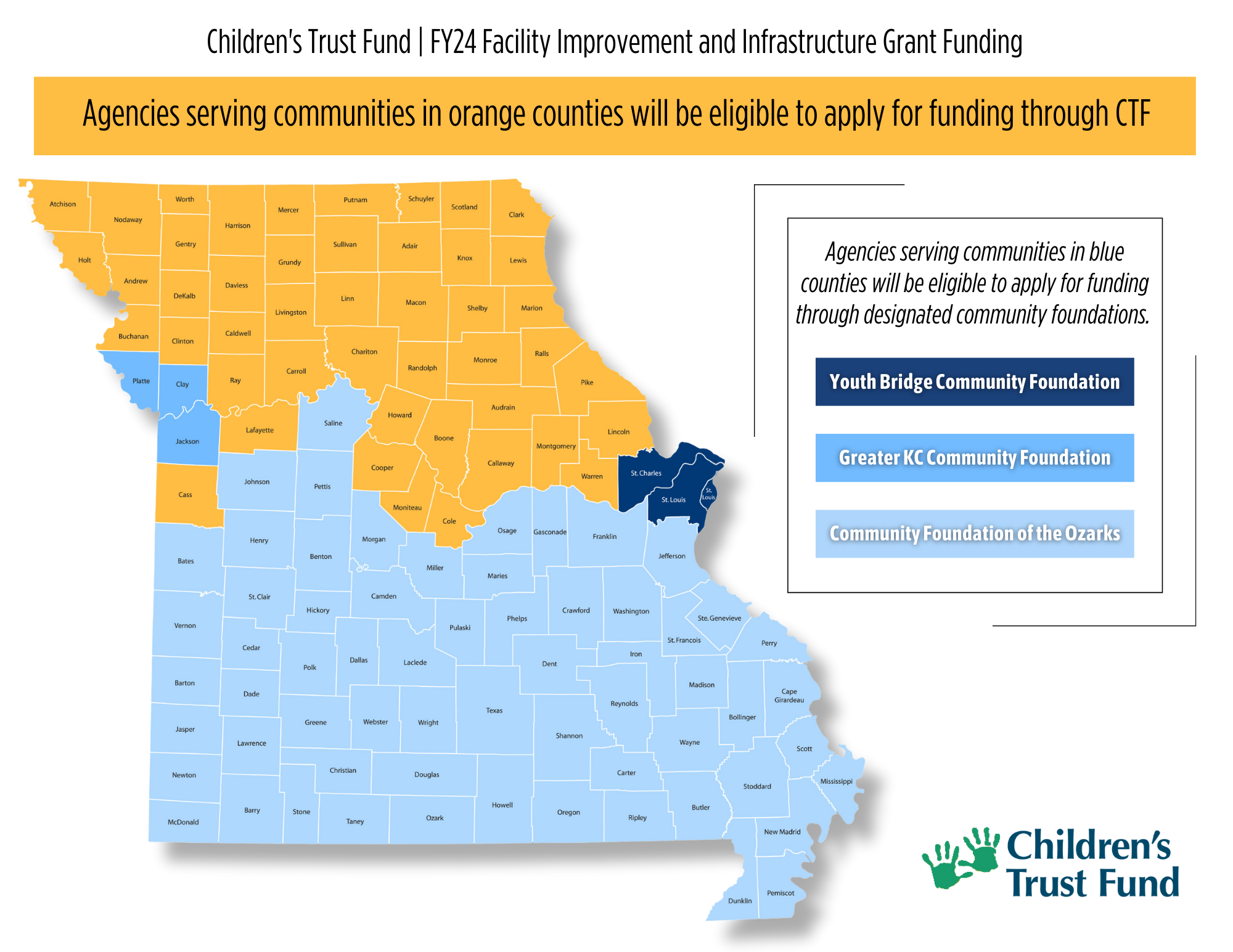 CTF to release $1.5 million in unobligated Facilities Improvement & Infrastructure Funding
This year, CTF will be partnering with the Community Foundation of the Ozarks, YouthBridge Community Foundation and the Greater Kansas City Community Foundation to release $1.5 million in unobligated funding from the Facilities Improvement and Infrastructure grant program. Counties and communities not covered by these three foundation will be able to apply for funding directly from CTF. To apply for funds through CTF, please visit our Funding Opportunities page.  Applications are due September 1.
The available funds are unobligated funding from our $20 million in Facility Improvement and Infrastructure Funding from Fiscal Year 2023. The funds available through this bid are considerably smaller than the previous cycle; therefore, projects selected and amounts awarded will be smaller, as well.
Stay tuned for more information or announcements from the Community Foundations in your service area. For questions about this funding opportunity, the application process or to submit your completed application, please reach out to Laura.Malzner@oa.mo.gov.
If you have questions regarding our partnership the Community Foundations, please reach out to Emily.VanSchenkhof@oa.mo.gov.
About Children's Trust Fund
Created by the Missouri General Assembly in 1983, CTF is Missouri's foundation for child abuse prevention.  CTF is a non-general revenue state agency that conducts public awareness campaigns about the importance and economic impact of preventing child abuse and neglect.  In addition, CTF distributes grants annually throughout Missouri to local community-based programs that support families and work toward the prevention of child abuse and neglect.  For additional information, please call CTF at 573-751-5147 or visit ctf4kids.org.  
Are you receiving CTF's emails? Join below!