The Children's Trust Fund (CTF) is Missouri's foundation for child abuse prevention.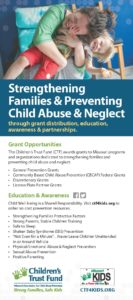 CTF was created by the Missouri General Assembly in 1983 as a 501c(3) non-profit organization whose purpose is to prevent and/or alleviate child abuse and neglect.  Located within the Missouri Office of Administration, CTF is governed by a seventeen member Board of Directors, thirteen of whom are appointed by the Governor and confirmed by the Missouri Senate.
CTF does not receive any general revenue funding from the State to support its prevention activities.  Funding is obtained from dedicated fees on marriage licenses and vital records, volunteer contributions designated on Missouri State Income Tax Returns, sales of the specialty CTF license plate, general donations, interest income from the Fund, and other grants.
Our Vision – Strong Families, Safe Kids
The Missouri Children's Trust Fund envisions children and families in a safe, nurturing and healthy environment, free from child abuse and neglect.
Our Mission – Preventing Child Abuse and Neglect and Strengthening Missouri's Families
The Missouri Children's Trust Fund works to prevent child abuse and neglect and strengthen families through:
Grant Distribution
Education
Awareness; and
Partnerships.
Prevention Programming
CTF's primary function is to fund child abuse and neglect prevention programs throughout the state that focus on the following areas:
Parent education and support
Mentoring
Infant nurturing/infant massage
Community education
Grandparent support
Home visitation for parents
Crisis intervention/crisis nursery
Safe crib/safe sleep for infants
School-based prevention education
Sexual abuse prevention education
Fatherhood initiatives
Training and Development

Strengthening Families Protective Factors
Mandated Reporters
Darkness to Light – Stewards of Children
Public Education and Awareness
CTF's public education and awareness campaigns include the prevention of Shaken Baby Syndrome (SBS) a form of Abusive Head Trauma (AHT), Not Even For A Minute Campaign to educate caretakers about the dangers of leaving children unattended in and around vehicles, Words Hurt focusing on the devastating impact of emotional abuse, Safe Crib/Safe Sleep to prevent unsafe sleeping environments, Parent With Patience to address the sometimes stressful job of parenting and realistic developmental expectations of children, parenting tips incorporating the five protective factors that strengthen families, and sexual abuse prevention to provide adults with resources on how to protect kids.  CTF's prevention literature is available free of charge to Missouri residents.
CTF is a member of the National Alliance of Children's Trust and Prevention Funds, an organization that provides training, technical assistance and peer consulting opportunities to state Children's Trust Funds in order to strengthen their efforts to prevent child abuse.
Missouri Revised Statutes
CTF Board Created 210.170; Definitions 210.171; Board Powers and Duties 210.172; CTF Established 210.173; 451.151; 193.265; 143.1000; 301.463
Financial Report
Fiscal Year 2018 Form 990
State Plans
Fiscal Year 2019 State Plan
Annual Reports
CTF Annual Report – Fiscal Year 2018
CTF Annual Report – Fiscal Year 2017
CTF Annual Report – Fiscal Year 2016
CTF Annual Report – Fiscal Year 2015
CTF Annual Report – Fiscal Year 2014
CTF Annual Report – Fiscal Year 2013

Our History
View Historic Timeline of CTF 1983-Present (pdf)