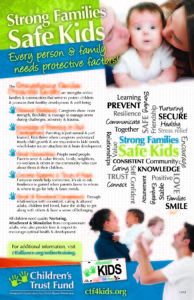 The Children's Trust Fund (CTF) engages in public education campaigns to heighten the awareness and importance of child abuse and neglect prevention.
CTF's donor campaigns promote general awareness of CTF, the sale of its specialty license plate and the tax check-off program.
The prevention campaigns focus on the importance of prevention, safe sleep environments, Shaken Baby Syndrome (SBS) prevention, positive parenting, emotional child abuse and neglect prevention, realistic expectations of children and dealing with stress.
CTF continues to look for public education opportunities that work in conjunction with statewide prevention programs to promote child resiliency and reduce risk of child abuse and neglect.
Donor Campaigns
Prevention Campaigns

Safe to Sleep
Provides education regarding crib safety to help decrease a child's chances for injury, overheating, suffocation, strangulation and Sudden Infant Death Syndrome (SIDS). Listen to or view Safe Sleep radio messages and electronic fliers.
Prevent Shaken Baby Syndrome (SBS)/Abusive Head Trauma
Focuses on the dangers and long-term effects associated with shaking a baby and the importance of controlling emotions and having a plan during stressful times created by inconsolable crying. Listen to or view SBS radio messages and electronic fliers.
Strengthening Families Protective Factors
Protective Factors are strengths within families & communities that serve to protect children & promote their healthy development & well-being, especially during time of stress.  Building these strengths at every opportunity is a proven way to strengthen families & prevent child abuse & neglect.
Emotional Abuse & Neglect (Parent with Patience)
Promotes realistic expectations from a child and the awareness and prevention of emotional abuse and neglect that can seriously injure a child's emotional development causing a negative effect on a child's personality, confidence and ability to form relationships. Find radio messages and electronic fliers dealing with emotional abuse under the Parent with Patience heading.
Positive Parenting Tips
Provides helpful common sense information for parents and caregivers regarding child development, positive discipline methods, setting family rules, tips on building self-esteem, dealing with temper tantrums and toilet training.  CTF and the Parents As Teachers National Center (PATNC) created a series of positive parenting tips to help everyone better understand and care for infants through pre-school aged children.  The tips are available in electronic format only. Listen to our PWP radio messages or view PWP electronic fliers.